The information on this website is not a substitute for examination, diagnosis, and medical care provided by a licensed and qualified health professional. Please talk to your doctor before undertaking any form of medical treatment and/or starting any exercise program or dietary guidelines. If you think this is a medical emergency, please call 911 immediately. AdventHealth reserves the right to add, remove, or edit content from this page at its sole discretion. Privacy Policy.
Head and Neck Cancer Care That Considers Your Whole Health

We're here to support you in body, mind and spirit as you navigate the diagnosis and treatment of head and neck cancer. Our unique, multifaceted approach considers your well-being on every level throughout the journey toward recovery.
At AdventHealth Cancer Institute, we get to know your unique health history and develop a plan to support you in your journey toward whole-health. We want to help you live life to the fullest by providing counseling, nutritional guidance, mentoring and support during and after your medical treatment.

Our Head and Neck Cancer Program features a comprehensive group of physicians, including otolaryngologists (ear, nose and throat surgeons), radiation oncologists, medical oncologists, specialists and researchers. These experts are committed to treating cancer with some of the most advanced approaches and are available in convenient locations, minimizing disruption to your life. In addition to some of the latest treatments, we are deeply engaged in research and clinical trials, doing all in our power to find a cure.


Thank You.
Thank you for taking the next step with AdventHealth. Our Nurse Navigators have received your request and will reply to your appointment request within 48 hours.
Thank You
Your guide is ready for download below. We hope the guide answers any questions you have and helps you take charge of your health.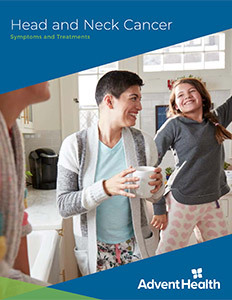 Download Your Guide
Take Your Treatment
to the Next Level

Download Your Guide
Get Informed,
Get Empowered

Our team is committed to ensuring you understand your diagnosis and treatment options. This quick guide written by our medical experts is designed to help provide answers to common questions about head and neck cancer, such as:

Download Your Guide
Finding the Right Treatment for You
From traditional treatments like surgery, chemotherapy and radiation to alternative therapies and clinical trials, your supportive team will build a plan that puts some of the most advanced medical research and procedures to work for you.
Using sophisticated radiation technology, we can target tumors with amazing precision, reducing pain and leaving healthy tissue untouched. Radiation therapy targets specific areas of the body, shrinking tumors and killing cancer cells by damaging their DNA.

Our fellowship-trained surgeons place a strong emphasis on treating tumors with techniques that optimize each patient's recovery. Options include advanced, minimally invasive procedures and techniques, including major ablative surgery, microvascular reconstruction, transoral robotic surgery (TORS), transoral laser microsurgery (TLM), minimally invasive thyroid and parathyroid surgery, and skull-base surgery.
Take Charge of

Your Care Today
Or call us at 407-543-4253.
Request an Appointment
DOWNLOAD YOUR GUIDE
Download Your Guide
Our oncology nurse navigators are here for you every step of your journey. They are advocates for your care, working as your points of contact for diagnosis, support, rapid scheduling, second opinions, symptom management and your ongoing education.
Using a combination of specialized drugs, chemotherapy has the power to destroy or slow down the growth of fast-growing cancer cells, wherever they are. Chemotherapy is often administered intravenously for head and neck cancers, but it can also be delivered by injection or orally. Depending on disease specifics, our patients may be offered a contemporary standard of treatment or a novel clinical trial.

We've been nationally recognized for our leadership in advanced cancer treatment, research and quality of care from diagnosis to cure.
We're on a Mission to

Advance Cancer Care
Nationally Recognized For Hip Replacement
Florida Hospital is recognized by U.S. News & World Report as one of America's best hospitals for Hip Replacement.
#1 Hospital in Greater Orlando

AdventHealth Orlando is recognized as the #1 hospital in Greater Orlando by U.S. News & World Report.

Best Regional Hospital for Cancer Care

AdventHealth Orlando is recognized by U.S. News & World Report as one of America's best hospitals for cancer treatment.
Commission on Cancer Accreditation

AdventHealth Cancer Institute has been accredited by the Commission on Cancer (CoC) through the American College of Surgeons (ACoS). This accreditation was obtained through an extensive evaluation of the AdventHealth Cancer Institute. The CoC accreditation ensures a commitment to quality care, the use of proper infrastructure and improved patient outcomes.
American College of Radiology Accreditation for Radiation Oncology

AdventHealth Cancer Institute has been awarded a three-year term of accreditation in radiation oncology as the result of a recent review by the American College of Radiology (ACR). The ACR seal of accreditation represents the highest level of quality and patient safety.
Learn How Our Specialists Are Treating Cancers of the Head and Neck
Hear our specialists discuss some of the newest innovations in treating cancers of the head and neck, including radiation, chemotherapy and minimally invasive surgery.
Hear how treatment options for head and neck cancers have advanced significantly over the years, improving quality of life after treatment, as well as survival rates.
Learn how our team of oncologists, radiologists and surgeons, all with specific expertise in head and neck cancers, work together to provide treatment that delivers positive outcomes.
Nationally Recognized for Patient Safety, Quality and Transparency
The Leapfrog Group has exclusively recognized AdventHealth with the Emerald Award in 2022 for remarkable achievements and leadership in patient safety, quality and transparency by a health care system, including maintaining a culture of excellence throughout all levels of the organization. Delivering consistent, high-quality, whole-person care is our priority, and we're honored to be the first health care system to earn this award.