The information on this website is not a substitute for examination, diagnosis, and medical care provided by a licensed and qualified health professional. Please consult your physician before undertaking any form of medical treatment and/or adopting any exercise program or dietary guidelines. If you think you may have a medical emergency, call your physician or 911 immediately. AdventHealth reserves the right to add, remove or, edit content on this page at its sole discretion. Privacy Policy.
Take Charge of
Your Health
or call us at 407-543-4588.
Every Day Is Another Transformation
Change is good. Especially when it means becoming your healthiest, happiest self. With our free online seminar instantly accessible in English and Spanish, it's time to start the journey toward achieving your weight-loss goals — and living the life you've always imagined.
It's empowering to know that you have the ability to take control of your health. It's even more empowering when you discover how easy it can be with the right support along the journey.
All the resources needed for a full physical, mental and spiritual recovery are right here at AdventHealth Medical Group Bariatric Surgery & Metabolic Medicine, formerly the Center for Metabolic and Obesity Surgery at Florida Hospital.
Sign up today for an online information session led by your surgeon to learn more about how we can help you feel whole.
Double-click to edit this text
Our expert surgeons and nurses are nationally acclaimed thought-leaders dedicated to improving the whole health of our patients and supporting their goals for healthier weight.
Roux-En-Y Gastric Bypass
You can expect significant weight loss from the Roux-en-Y gastric bypass, which is designed to make your stomach much smaller. By enabling food to bypass much of the stomach and part of the small intestine, you'll find yourself getting full more quickly, with less desire to eat, helping you keep the weight off for years to come.
Nationally Recognized for Patient Safety
AdventHealth is recognized as one of America's highest-rated hospitals for patient safety by The Leapfrog Group.
Your bariatric surgery is destined to be a life-changing event. To help you prepare, we've assembled this easy-to-understand reference guide to answer many of the questions that may cross your mind.
About how much weight will I lose?
Will I still be able to eat the same way?
What is the recovery period?
Download Your Guide
Whole-person care empowers you to take your health into your own hands. Going beyond the traditional, you'll have access to a blend of programs and resources that target long-lasting lifestyle changes, with emphasis on diet and exercise to nourish your sustained well-being. We're here to help you feel whole again — in body, mind and spirit.
Attend Online Info Session
Attend Online Info Session
On a Mission to
Advance Metabolic Care
Covering the




Basics of Bariatrics
A Treatment Plan
Tailored to You
We offer a complete series of bariatric surgery techniques to ensure you receive the treatment that's best for you with the highest levels of care and compassion possible. After your procedure, you'll begin a comprehensive follow-up program with personal support to help you maintain your weight loss and healthy life.
Duodenal Switch
This procedure is considered the most powerful approach for patients looking to lose the greatest amount of weight. This operation makes a smaller stomach, and also bypasses much of the small intestine. It's especially effective for those with type 2 diabetes, high triglycerides and/or high cholesterol.
Sleeve Gastrectomy
The gastric sleeve has become a popular option, since it doesn't involve bypassing of the small intestine and has a low rate of long-term complications. It is also still fairly effective at improving or potentially resolving type 2 diabetes for many patients.
Please join us for a free information session to meet your surgeon and learn more about the bariatric surgery treatment option that's best for you.
Answers, Guidance,

Peace of Mind
Attend In-Person Info Session
Bariatric Expertise That
Brings Change
Here are a few questions to ask yourself when considering if bariatric surgery is right for you:
Are you 100 pounds or more over your ideal body weight?
Is your BMI 40 or greater?
Is your BMI 35 or greater with obesity-related health issues, like diabetes or high blood pressure?
Have you been unsuccessful with traditional weight-loss programs and methods?
Want to estimate your body mass index (BMI)? Fill in the form below and we'll provide a clear picture of whether you might qualify for bariatric surgery.
How It All

Adds up for You
MBSAQIP Accredited Center
AdventHealth Medical Group Bariatric Surgery & Metabolic Medicine is accredited by the MBSAQIP®, a national accreditation standard for bariatric surgery centers.
AdventHealth Medical Group Bariatric Surgery & Metabolic Medicine is led by nationally acclaimed surgeon Dr. Dennis Smith. The team tailors treatment plans specifically to the needs of each patient. We offer a multidisciplinary approach, complete with nutritionists, exercise physiologists, and psychologists. That way, you can always feel comfortable and confident in the level of care you'll receive.
Accepted Insurance Plans*
• Aetna
• BCBS
• Cigna
• Health First
• Medicare
• United Healthcare
• FHCA
• Humana
• AvMed
*Many insurance plans may cover weight-loss surgery. Individual policies differ in their requirements and coverage.
Celebration Info Sessions
Day: Every Wednesday
Time: 6 p.m.
Location: AdventHealth Celebration
Mangrove Conference Room
400 Celebration Place,
Celebration, FL 34747
"I only wish it hadn't taken me SO LONG to make this decision." - Pamela, bariatric surgery patient
Focus on Becoming
the Future You, Today
Asistir a Una Sesión Informativa en Línea
U.S. News & World Report #1 Hospital in Greater Orlando
AdventHealth Orlando has been repeatedly recognized as one of Orlando's best hospitals in 16 types of care by U.S. News & World Report.
Thank You
Your guide is ready for download below. We hope the guide answers any questions you have and helps you take charge of your health.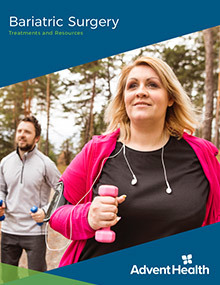 Download Your Guide
Thanks for Your Interest in Our Free Info Session!
We have received your request and will be in touch within 48 hours.