The information on this website is not a substitute for examination, diagnosis, and medical care provided by a licensed and qualified health professional. Please talk to your doctor before starting any form of medical treatment and/or adopting any exercise program or dietary guidelines. If this is a medical emergency, please call 911 immediately. AdventHealth reserves the right to add, remove, or edit content from this page at its sole discretion. Privacy Policy.
Take Charge of
Your Health
Or Call Us at 407-543-4395.
Prevention to Put You at Ease
Be proactive about your digestive health and get screened early for colorectal cancer. It takes very little time and could easily save your life.
There's a reason preventive screenings are so important. In fact, here are two: Colorectal cancer is now the second-leading cause of cancer-related deaths in America. And more than ninety percent of those cases are curable if diagnosed early. Isn't it amazing how one little test can make such a big difference in your life? Please make sure to schedule your exam if you haven't already.
Trusting your health to the specialists at AdventHealth, formerly Florida Hospital, makes sense. Our doctors are among the best and brightest in the nation, focusing on continued education that keeps them current on the latest breakthroughs and state-of-the-art technologies in colorectal care. You deserve only the best when it comes to your health.
Double-click to edit this text
Double-click to edit this text
Listen as the bariatric staff, Dr. Kim and Dr. Smith of The Center for Metabolic and Obesity Surgery, share their passion for making a difference in the lives of our patients at Florida Hospital.
The personal support you need is here, no matter when you need it. At your initial diagnosis, you'll be assigned a designated digestive care coordinator who will be with you all the way through each stage of recovery. Your coordinator will be available to answer any questions about scheduling, medical procedures, therapy and whatever else may come to mind. It's all designed to make your life easier.
Putting You First
From the Start
Our expert doctors and nurses are nationally acclaimed thought leaders dedicated to improving the level of digestive care for our patients.
Before Your Colonoscopy
For a proper examination, the colon must be clean.
You'll need to follow a strict liquid diet before the procedure.
You may also be asked to drink a special fluid to flush your system.
Thank You
Thank you for taking the next step with AdventHealth. Our care coordinators have received your request and will reply to your appointment request within 48 hours.
Download Your Guide
Knowledge is power — especially when it can protect your health and well-being. This guide on colon cancer was created to educate and empower you by answering the following questions:
What are the symptoms of colon cancer?
How can I reduce my chance of developing colon cancer?
Exactly how invasive is a colonoscopy?
What's the best treatment method?
Download Your Guide
Whole-person care empowers you to take your health into your own hands. Going beyond the traditional, you'll have access to multiple programs and resources that target long-lasting lifestyle changes, with emphasis on diet and exercise to nourish your sustained well-being. It's all about making you feel whole again — in body, mind and spirit.
On a Mission to

Advance Digestive Care
The Power to
Stay Informed
Setting A New Standard For
Complete Bariatric Surgery.
A Procedure for
Peace of Mind
Our expert team of doctors and nurses comes to work every day with the same goal in mind: Making sure you feel confident with your treatment and comfortable during your stay. And when scheduling a colonoscopy, know you won't be here for long. It's a simple outpatient procedure that usually takes just an hour.
Knees and hips. Shoulders and wrists. Feet and ankles. They're all in good hands here. Thousands of patients just like you have changed their lives for the better thanks to innovative approaches to orthopedic treatment. The experts on your team are skilled in minimally invasive joint procedures to help ease pain, lessen scarring, and speed your recovery time. There's a better way to a better you, and it starts right here at Florida Hospital.
Ease Your Pain.

The Easiest Way.
In Good Hands

for Great Health
Thank You
Your guide is ready for download below. We hope the guide answers any questions you have and helps you take charge of your health.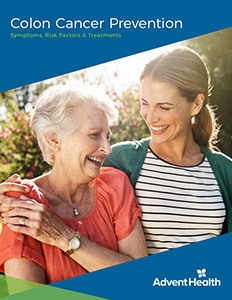 Download Your Guide
Common symptoms of chronic joint pain include:

Discomfort while standing, walking short distances, climbing up or down stairs, or getting in and out of chairs
Joint swelling
Poor sleep due to pain
Start-up pain or stiffness when initiating activities from a sitting position
Stiffness after periods of rest
Weakness or instability
Additional diseases and conditions that can cause chronic joint pain include:

Avascular necrosis
Paget's disease
Rheumatoid arthritis
#1 Hospital in Florida
AdventHealth is recognized as the #1 hospital in Florida by U.S. News & World Report.
Nationally Recognized For Hip Replacement
Florida Hospital is recognized by U.S. News & World Report as one of America's best hospitals for Hip Replacement.
Request an Appointment
Download Your Guide
Nationally Recognized For Patient Safety
AdventHealth is recognized as one of America's highest-rated hospitals for patient safety by The Leapfrog Group.
45 is the new 50, when it comes to colorectal health. That's the recommended age to begin colon cancer screenings. This video reminds us to celebrate living our best lives by taking the best care of our bodies — and to always do everything we can to prevent unnecessary illness.
What to Watch Out For,
And Why
Watch this video to learn more about what causes acid reflux and how you can protect yourself from it in the future. If you feel like you're experiencing symptoms, trust your gut and visit with a doctor soon. Remember, acid reflux can lead to more serious conditions if left untreated.
During Your Colonoscopy
All clothing/jewelry must be removed, and you'll be given a gown.
A relaxing sedative will make you drowsy or fully asleep.
You'll be asked to lay on your left side with your knees pulled up to your chest.
An injection of air into the bowel will help your doctor get a clear picture.
A water jet and/or suction device may be used for cleaning purposes.
The doctor will take photos of your colon and typically remove any polyps (large polyps may be left until a follow-up procedure can be scheduled).
After Your Colonoscopy
You'll be taken to a supervised recovery room, where you'll stay until you're feeling alert and your blood pressure and pulse are stable.
The doctor may discuss your results with you or schedule a follow-up visit.
When you're ready, you'll be released to the family member or friend you've designated to drive you home.
You can eat anything you like after your colonoscopy, but may want to begin with a small, bland meal.
Be sure to drink plenty of fluids but avoid alcohol for 24 hours.
Please note that if you suffer from Type 2 diabetes, Crohn's disease, ulcerative colitis, or Lynch syndrome — or have a personal/family history of polyps — you have a higher risk of colorectal cancer and should plan for a screening earlier than the typical age of 45.
The Power to

Stay Informed
National Accreditation Program for Rectal Cancer
AdventHealth's rectal cancer program has received a three-year certification by the National Accreditation Program for Rectal Cancer (NAPRC). As one of the first hospital systems in the nation to receive it, this accreditation was developed through a collaboration between the Optimizing the Surgical Treatment of Rectal Cancer (OSTRiCh) Consortium and the Commission on Cancer (CoC), a quality program of the American College of Surgeons.
One of America's Best Hospitals
AdventHealth is recognized by U.S. News & World Report as one of America's best hospitals for gastroenterology & GI surgery.
Best Regional Hospital
AdventHealth is recognized by U.S. News & World Report as one of Orlando's high-performing hospitals for colon cancer surgery.