The information on this website is not a substitute for examination, diagnosis, and medical care provided by a licensed and qualified health professional. Please talk to your doctor before starting any form of medical treatment and/or adopting any exercise program or dietary guidelines. If this is a medical emergency, please call 911 immediately. AdventHealth reserves the right to add, remove, or edit content from this page at its sole discretion. Privacy Policy.
Take Charge of

Your Health
or call us at 706-503-7085
Double-click to edit this text
Double-click to edit this text
Learn more about your controllable and uncontrollable risk factors in our informative downloadable guide.
AdventHealth has been nationally recognized for our leadership in advanced cancer treatment, research and quality of care from diagnosis to cure.
Beautiful You
The Beautiful You program is dedicated to supporting women as they go through cancer treatment by nurturing them in body, mind and spirit. This monthly group provides makeup, wigs, mental health support, nutritional guidance and other services to help you feel your best during treatment.
Schedule a Mammogram
Download Your Guide
We're here to help you navigate your AdventHealth Network of Care, from understanding insurance coverage to finding the right physician or specialist. When you request an appointment, a nurse navigator will begin coordinating your care as soon as possible.
On a Mission to

Advance Cancer Care
Get Informed,

Get Empowered
Finding the Right

Treatment for You
Our leading specialists develop a course of action that considers your medical history, current health, the type of cancer you have been diagnosed with, and the available therapies. With options like surgery, chemotherapy, radiation therapy and clinical trials, your treatment team will build a personalized plan that puts some of the most advanced medical research and procedures to work for you.
Hypofractionated Radiation Therapy
You may be a candidate for this new radiation therapy schedule that involves fewer treatments with higher doses of radiation at each treatment. Many patients find this to be more convenient and have fewer side effects than those with longer, traditional radiation schedules.
Knees and hips. Shoulders and wrists. Feet and ankles. They're all in good hands here. Thousands of patients just like you have changed their lives for the better thanks to innovative approaches to orthopedic treatment. The experts on your team are skilled in minimally invasive joint procedures to help ease pain, lessen scarring, and speed your recovery time. There's a better way to a better you, and it starts right here at Florida Hospital.
Ease Your Pain.

The Easiest Way.
Common symptoms of chronic joint pain include:

Discomfort while standing, walking short distances, climbing up or down stairs, or getting in and out of chairs
Joint swelling
Poor sleep due to pain
Start-up pain or stiffness when initiating activities from a sitting position
Stiffness after periods of rest
Weakness or instability
Additional diseases and conditions that can cause chronic joint pain include:

Avascular necrosis
Paget's disease
Rheumatoid arthritis
The Joint Commission National Quality Approval
The Joint Commission evaluates health care organizations and certifies those who excel in providing safe and effective care of the highest quality and value.
Nationally Recognized For Hip Replacement
Florida Hospital is recognized by U.S. News & World Report as one of America's best hospitals for Hip Replacement.
Request an Appointment
100 Great Community Hospitals, Becker's Hospital Review
The Becker's editorial team selected hospitals based on several rankings and ratings organizations, including IBM Watson Health 100 Top Hospitals, Leapfrog Group grades, Healthgrades awards, and many others.
Hear Our Stories Firsthand
Double-click to edit this text
From diagnosis to treatment to survivorship, we're with you every step of the way. Watch these videos to see why our specialists are so passionate about what they do, and hear one woman's inspiring success story.
Commission on Cancer Accreditation
The Commission on Cancer is dedicated to improving survival and quality of life for cancer patients through standard-setting, prevention, research, education and the monitoring of comprehensive quality care.
Targeted Therapy
Our doctors are dedicated to creating a highly personalized treatment plan for each patient. We utilize several types of targeted therapies, including hormone therapy and immunotherapy, that more precisely identify and attack cancer cells.
Healthcare Facilities Accreditation Program (HFAP)
HFAP standards focus on patient treatment, quality improvement, patient safety and environmental safety.
Chemotherapy
This common drug treatment works to kills cancer cells throughout the body. At AdventHealth Gordon, we work to make your chemo treatment as comfortable as possible with individualized care in a smaller, more personalized infusion setting.
Trusted Care for
Your Breast Health
From preventive care with mammograms to expert treatment for breast cancer and beyond, we're here to guide every step of your breast health journey.
Supporting You From Prevention to Recovery
When it comes to your breast health, you're the expert on your body. If you notice something that's not normal for you, don't wait to reach out to our team for the answers you need.
Because with breast cancer, prevention is essential — and screening is key. Screening mammograms can detect breast cancer early, when it's easiest to treat. Our imaging specialists also have advanced training and expertise in detecting subtle differences between tissues to pinpoint areas of concern.
On our campus, the Edna Owens Breast Center delivers personalized treatment and comprehensive care. It serves the community as a one-stop, patient-focused center for the rapid diagnosis and comprehensive treatment of breast diseases. The center is designed to be both beautiful and convenient, bringing together a wide range of women's services, from screenings and consultations to treatment and procedures.
Breast cancer is the second most common type of cancer affecting U.S. women, with about 12.4 percent of women being diagnosed at some point during their lifetime. The good news is that with advances in methods of detection and treatment, many women can, and do, beat breast cancer.
Our team will arm you with the information and resources you need to meet the challenge of a breast cancer diagnosis with confidence, dignity and hope. This guide will help you understand some of the most common questions about breast cancer, such as:
Your designated breast nurse navigator will be by your side every step of the way, answering your questions and helping you schedule appointments with your doctors and specialists. They are advocates for your care, working as your points of contact for diagnosis, support, second opinions, symptom management and your ongoing education. After your treatment, our team will also provide you with the counseling, nutritional guidance, mentoring and support you'll need to live life to its fullest.

5-Star Rated Hospital, Centers for Medicare and Medicaid Services Quality Rating System
The overall hospital rating considers up to 57 different measures and indicates how well each hospital performed, on average, compared to others in the U.S. The most common overall hospital rating is 3 stars.
Strategies for

Breast Cancer Prevention
Since breast cancer is a genetic disease that can arise at any phase of life, there is no one way to prevent it. However, you can take some important steps to decrease your risk and catch symptoms early.
Here are some simple ways to lower your risk of developing breast cancer:
Avoid smoking tobacco and drinking alcohol

Consider medication and surgery as preventive measures if you're at high risk

Eat a diet rich in healthy foods, like fruit and vegetables

Exercise and maintain a healthy weight

Talk to your doctor about how often you should get screened based on your unique risk factors

Schedule a Mammogram
Download Your Guide
Thank You.
Thank you for taking the next step with AdventHealth. Our Nurse Navigators have received your request and will reply to your appointment request within 48 hours.
Thank You
Your guide is ready for download below. We hope the guide answers any questions you have and helps you take charge of your health.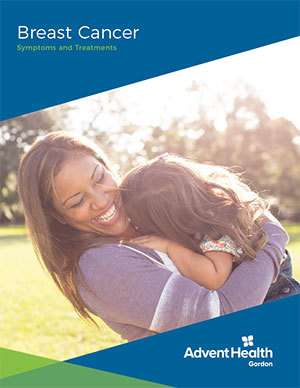 DOWNLOAD YOUR GUIDE
Thank You
Thank you for taking the next step with AdventHealth. Please continue booking your appointment using the link below.
Book Online