The information on this website is not a substitute for examination, diagnosis, and medical care provided by a licensed and qualified health professional. Please talk to your doctor before starting any form of medical treatment and/or adopting any exercise program or dietary guidelines. If this is a medical emergency, please call 911 immediately. AdventHealth reserves the right to add, remove, or edit content from this page at its sole discretion. Privacy Policy.
Five Convenient Locations, One
Connected System of Care
Or call us at 913-676-7775.
Double-click to edit this text
AdventHealth has been nationally recognized for our leadership in advanced cancer treatment, research and quality of care from diagnosis to cure.
REQUEST AN APPOINTMENT
It's good to have the most powerful network of care behind you. Our flagship facility, AdventHealth Shawnee Mission, is known for personalized, whole-person care from the leading-edge experts you trust the most. But thanks to our connected network, you'll also have access to the same highly skilled physicians at AdventHealth Lenexa, AdventHealth South Overland Park, AdventHealth College Boulevard and AdventHealth Ottawa. No matter where you are in the Kansas City area, we're here for you in body, mind and spirit.
A Reputation for Providing

the Best Care
Nationally Recognized For Hip Replacement
Florida Hospital is recognized by U.S. News & World Report as one of America's best hospitals for Hip Replacement.
Lenexa Directions
Heart
Chest Pain Center Accreditation from the Society of Chest Pain Centers
South Overland Park Directions
When Minutes Matter, Choose the ER Experts
More people choose AdventHealth Shawnee Mission for emergency care than any other hospital in Johnson County. With multiple locations across northeast Kansas, ER scheduling from home with InQuickER and a network of care at your back, we're always here to serve your family.
We're Close When It Matters Most
When seconds matter in a medical emergency, your chosen ER matters, too. That's why AdventHealth is honored to bring the highest standards of emergency care to your community, with five convenient locations to better serve you:

• AdventHealth Shawnee Mission
• AdventHealth Lenexa
• AdventHealth South Overland Park
• AdventHealth College Boulevard
• AdventHealth Ottawa

We hope your ER visit is the only medical care you'll need for a while. But should you need hospital admittance, follow-up care, medication or any services in the Kansas City area, you can trust the network of care that's backed by the reputation and standards of AdventHealth Shawnee Mission. With more than 50 years of fast, capable emergency experience, we'll be there for you.
FACT Program: Compassionate Care
Trusted by Law Enforcement
Some emergencies are more sensitive than others. Our Forensic Assessment Consultation and Treatment (FACT) program provides personalized, compassionate support for patients with injuries from sexual and domestic abuse. With a team of experts working around the clock to bring relief to the people of the Kansas City area, we're here to handle your medical emergency with skill, expertise and sensitivity. If you have any questions or need help for any trauma from assault, call FACT at 913-676-7500 or come straight to us. We're here to support you.
Find Your Closest ER
Schedule With InQuickER
Shawnee Mission Directions
Stroke
Earned The Joint Commission's 2018 Gold Seal of Approval™ for health care quality and safety in Sepsis, Inpatient Diabetes, Primary Stroke Center and more
Proven Quality
"A" grade in the Leapfrog Group's Hospital Safety Scorecard since 2013
Proven Quality
Earned Magnet recognition in 2019 for nursing professionalism, teamwork and superiority in patient care
Proven Quality
Named one of the nation's 100 Top Hospitals by IBM Watson Health
Take charge of your wellness by attending an upcoming event led by our health professionals. Find screenings, educational classes, tours and much more at an AdventHealth location near you. Click on a location within the map to see available events.
AdventHealth South Overland Park
7820 W 165th St, Overland Park, KS 66223
Directions
AdventHealth Lenexa
23401 Prairie Star Pkwy, Lenexa, KS 66227
Directions
AdventHealth Shawnee Mission
9100 W 74th St, Shawnee Mission, KS 66204
Directions
AdventHealth College Boulevard
7025 College Blvd, Overland Park, KS 66211
Directions
AdventHealth Carrollwood
7171 N Dale Mabry Hwy, Tampa, FL 33614
Directions
Convenient Access to Quality ER Care
If you have a life-threatening emergency, call 911 or go to the nearest emergency room.
College Boulevard Directions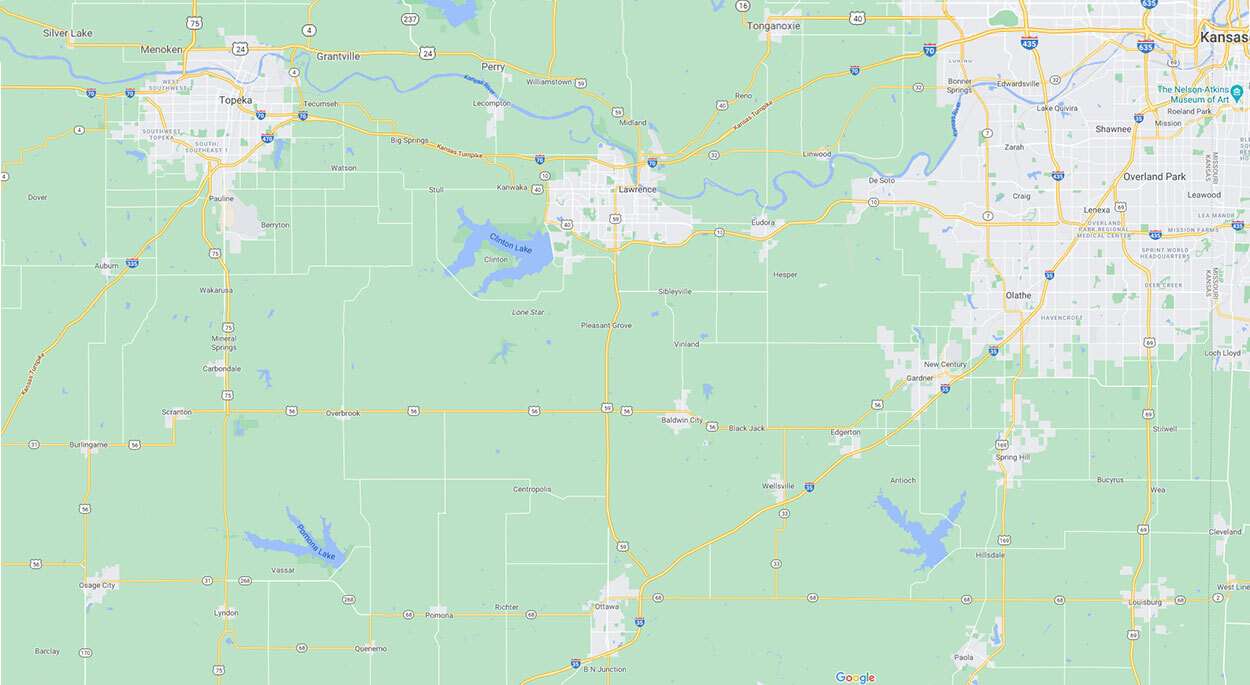 If you've recently visited an impacted area or been in contact with someone who has, and are showing signs of the infection, we encourage you to speak with a doctor. The best way to do this is to call your primary care physician, closest urgent care or schedule a video visit through the AdventHealth app.
If you're immunocompromised or have other underlying health conditions, and you have coronavirus symptoms, please contact your primary care physician for personalized recommendations.
In order to avoid the spread of COVID-19, you should avoid the emergency room at your local hospital except in cases of an emergency.
For more information about the coronavirus outbreak, including how to best protect yourself and your family, look through our FAQs, get the latest news and download the AdventHealth app for convenient video visits with your doctor from home, visit the AdventHealth Coronavirus Resource Hub at CoronavirusResourceHub.com.
Visit the Coronavirus Resource Hub
Signs of Coronavirus?

To keep yourself and everyone around you safe, it's best to call your doctor from home if you or a family member feels under the weather. Your physician can advise you on next steps to take to feel better. To stay on the safe side, follow these steps to get help for coronavirus symptoms:
Visit the Coronavirus Resource Hub
For more information about the coronavirus outbreak, including how to best protect yourself and your family, look through our FAQs, get the latest news and download the app for convenient video visits with your doctor from home, visit the AdventHealth Coronavirus Resource Hub at CoronavirusResourceHub.com.
If you or someone you love has coronavirus symptoms like fever, dry coughing and difficulty breathing, please do not rush to your doctor or urgent care. To avoid the spread of coronavirus, you should avoid the emergency room at your local hospital except in cases of an emergency. The best first step is to call your primary care physician. They'll help you understand your symptoms and advise on next steps. We know this guidance is different from what you'd normally do, but remember that during this time, it's important to keep yourself safe and also avoid getting other people sick.
Avoid Urgent Care or Your Physician's Office
You can safely see your doctor during the coronavirus outbreak. An in-person visit may not be the safest choice during the outbreak (for you or anyone else in the doctor's office) so call your doctor from home if you need medical care. To visit with a medical provider virtually from your smartphone or tablet, you can download the AdventHealth app to have a video visit. During this telemedicine appointment, you can video chat with a physician, explain your symptoms, get a diagnosis and even get a prescription that suits your needs.
Only Leave Home for Medical Care if Your Doctor Approves It
On your phone call or video visit with your doctor, they can tell you what to do to feel better, based on your symptoms. Your provider can tell you whether to visit their office for examination, go to an urgent care or go to an emergency department near you — just be sure to get their approval before you leave home unless it's an emergency.
Call Your Doctor or Use Video Visits From Home
Extra Safety Measures for


Extra Peace of Mind
Even in a pandemic, you can feel safe. We're stocked with safety supplies, have no shortages of personal protective equipment (PPE) and masks are required for all at our facilities.
We're employing the following safety measures and protocols to ensure you and your loved ones feel confident, protected and safe in our facilities.
Have peace of mind that everyone you come into contact with has their temperature checked before being allowed in. Every entrance. Every facility. Everyone entering.
Cleanliness has always been one of our top priorities, but now we're taking extraordinary new steps to ensure thorough, frequent and ongoing sanitation happens around the clock.
Extra Sanitation Measures
Take comfort knowing your safety is our priority. COVID-19-positive and symptomatic patients are carefully quarantined away from patients and visitors.
Separate Waiting and Treatment Areas
Feel confident you're doing the right thing to keep yourself and others safe. With limited visitation, new waiting room protocols and more, you can safely practice social distancing.
AdventHealth Ottawa
1301 S Main St, Ottawa, KS 66067
Directions
Ottawa Directions
Get InQuickER to

Feel Better Faster
With InQuickER, we're making it easier than ever to get the emergency care you need for issues that aren't life-threatening. With this tool, you can schedule an emergency room visit online, wait in the comfort of home and arrive at your projected treatment time.
In a life-threatening medical emergency, call 911. Do not use InQuickER.
Schedule Now