The information on this website is not a substitute for examination, diagnosis, and medical care provided by a licensed and qualified health professional. Please talk to your doctor before starting any form of medical treatment and/or adopting any exercise program or dietary guidelines. If this is a medical emergency, please call 911 immediately. AdventHealth reserves the right to add, remove, or edit content from this page at its sole discretion. Privacy Policy.
Empowering Your

Total Breast Health
or call us at 913-676-2505
Empowering You to Take Charge of Your Breast Health
With advanced screening, you can detect problems earlier and embrace lifelong wellness.
The best way to prevent breast cancer is to detect it early. At AdventHealth Shawnee Mission, formerly Shawnee Mission Health, it's our goal to make it easy for you to take preventive measures for your health, and if you're diagnosed with breast cancer, we'll be here for you from diagnosis through survivorship.
Our AdventHealth Shawnee Mission Breast Center has received recognition from the National Accreditation Program for Breast Centers, making us the first accredited breast cancer program in Kansas City. You can count on us for comprehensive breast care — from compassionate imaging specialists who have extensive expertise to advanced digital mammogram technology that gives you answers earlier.
Double-click to edit this text
Double-click to edit this text
You can help more women take health into their hands, right here in our community. The Women's Services fund at AdventHealth Foundation Shawnee Mission provides vital health care services like mammograms to underserved women in the community.
When you give $30, you cover the cost of a mammogram — a gift that empowers women to take charge of their health and feel whole.
Being proactive about your health is worth it, especially when it comes to catching breast cancer early. From your first mammogram to ongoing support for your whole health, we're here to make it easy to put your health first. If you're due for a mammogram, book your screening today.
Our expert surgeons and nurses are nationally acclaimed thought-leaders dedicated to improving the level of digestive care for our patients
Best Regional Hospital
Florida Hospital is recognized by U.S. News & World Report as one of America's best hospitals.
Nationally Recognized For Patient Safety
Florida Hospital is recognized as one of America's highest-rated hospitals for patient safety by The Leapfrog Group.
ARMEN DEUKMEDJIAN, MD
is a fellowship-trained neurosurgeon specializing in minimally invasive solutions for both simple and complex spinal conditions. Dr. Deukmedjian's focus includes degenerative scoliosis correction, spinal arthritis correction, and treatment of neck and back pain. He also treats spinal trauma, fractures, tumors and congenital defects. He has authored and co-authored over 15 peer-reviewed articles in top tier neurosurgery journals and 10 book chapters.
If you've never had a mammogram, you might not know what to expect, or you might be nervous about the results. This guide can help put your mind at ease by addressing some of your concerns about mammography, like:
Are there different types of mammograms?

How do I schedule a mammogram?

How is a mammogram performed?

How will I receive my results?

Is a mammogram painful?

Who should get a mammogram?
Download Your Guide
If you haven't had a mammogram recently, now is the perfect time to take your health into your hands with our compassionate health care team.
Download Your Guide
Schedule a Mammogram
On A Mission To
Advance Bariatric Care
Your Partner in

Proactive Breast Cancer Care
Your Questions on Mammography,

Answered
Be the Difference:
Give a Mammogram to a Woman in Need
Routine screening mammograms can help save your life. We want you to feel ready to take charge of your breast health by knowing what to expect from this experience.
What Is Mammography?
A mammogram is an X-ray examination of your breast. The latest digital mammography technology takes very detailed digital images of your breasts. These images help your doctor detect breast cancers, benign tumors and cysts before you can even feel them.
When Should I Get a Mammogram?
Many factors determine when you should have a mammogram, such as your family history, risk factors and age. Starting at age 25, you should get a clinical breast exam every one to three years. If you have a higher-than-average risk of breast cancer, discuss early mammography and ultrasound screening with your health care provider. Otherwise, the baseline age for mammograms is 40, and you should have them done yearly after this age.
Are There Different Types of Mammograms?
Mammography may be used either for screenings or to diagnose a symptom. A screening mammogram takes an X-ray to detect breast changes when you have no signs of breast cancer. A diagnostic mammogram can diagnose unusual breast changes, such as a lump, pain, nipple thickening or discharge or a change in breast size or shape.
The Florida Hospital Wesley Chapel neurospine program is led by neurosurgeons Dr. Amir Ahmadian and Dr. Armen Deukmedjian of NeuSpine Institute.
Expertly Trained

Neurosurgeons
VISIT NEUSPINE INSTITUTE
REQUEST A FREE MRI REVIEW
Advanced Imaging From

Experts Who Care
AMIR AHMADIAN, MD
is a fellowship-trained neurosurgeon who specializes in the management and minimally invasive treatment of spinal deformities, scoliosis, spinal fractures, neuro-oncology, peripheral nerve injuries and trauma. A gifted teacher and researcher, Dr. Ahmadian has authored over 21 peer-reviewed journal publications and 10 book chapters on neurosurgery and spinal deformity.
Thank You
Thank you for taking the next step with AdventHealth. Please continue booking your appointment using the link below.

Book Online
Thank You
Your guide is ready for download below. We hope the guide answers any questions you have and helps you take charge of your health.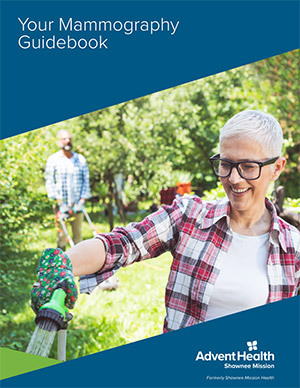 Download Your Guide
Schedule a Mammogram
Precise Mammogram Technology That

Gives You Answers
At AdventHealth Shawnee Mission, we use the most advanced tools in digital mammography, including 3D mammography and computer-aided detection. These tools allow our imaging specialists to detect subtle differences between tissues and pinpoint areas of concern well before they can be detected by touch.

After your mammogram, a radiologist will use computer-aided detection tools to read the digital images, looking for any signs of abnormality, including asymmetries, irregular areas of increased density and clusters of small calcium deposits. Your images can be enhanced by computer technology, stored digitally and even sent electronically between your physicians.
Schedule a Mammogram
Give Now
AdventHealth Shawnee Mission
Women's Imaging Center located inside the outpatient entrance.
9100 West 74th Street
Shawnee Mission, KS 66204
Directions
AdventHealth Imaging Lenexa*
23401 Prairie Star Parkway, Suite B130
Lenexa, KS 66227
Directions
AdventHealth Women's Imaging Overland Park*
7840 West 165th Street, Suite 150
Overland Park, KS 66223
Directions
AdventHealth Imaging Center Roeland Park
5675 Roe Boulevard, Suite 120
Roeland Park, KS 66205
Directions
*Hospital departments of AdventHealth Shawnee Mission
Find Women's Care in

Four Places Near You
Women's Imaging at


AdventHealth South Overland Park
Getting your essential screenings should be as convenient and comfortable as possible. The women's imaging at AdventHealth South Overland Park offers a range of services, including bone density (DXA) screening, high-risk screening and on-site virtual genetic counseling in a calming, spa-like atmosphere. Best of all, most appointments can be completed in just 30 minutes or less.
Download Your Guide
Call us at 913-676-2505 or click below to schedule your appointment.