The information on this website is not a substitute for examination, diagnosis, and medical care provided by a licensed and qualified health professional. Please consult your physician before undertaking any form of medical treatment and/or adopting any exercise program or dietary guidelines. If you think you may have a medical emergency, call your physician or 911 immediately. AdventHealth reserves the right to add, remove or, edit content on this page at its sole discretion. Privacy Policy.
Brain Tumor
Expertise With a Personal Touch

Discover the effective treatment you need and the supportive care you deserve. We're with you every step of the way.
Together, we can manage a brain tumor. And we're prepared to go above and beyond — walking through all your treatment options and providing exceptional care, comfort and hope at every stage. We utilize advanced diagnostics, treatments and techniques including minimally invasive surgical interventions that improve patient outcomes with a whole-health approach. Our specialists and surgeons are highly skilled in treating the whole brain, including:


Double-click to edit this text
Whether you're facing a new diagnosis or seeking a second opinion, we're ready to help. Our whole-person care philosophy is designed to help you feel whole in body, mind and spirit. Reach out today and learn how we can provide the supportive care you're looking for.
Request an Appointment
Putting You First
From the Start

As you focus on healing, you'll have a designated Care Navigator by your side, focused on your complete well-being. Your Care Navigator is here to guide you by answering questions, scheduling appointments and encouraging you when you need it most.

Elevating Treatment and Hope

Through innovative treatments, revolutionary minimally invasive surgical procedures and simply holding your hand throughout your journey, our experts are ready to fight for your health and well-being.

Your care team includes neurosurgeons, care coordinators, specialized nurses, neuro-oncologists, neuroradiologists, radiological physicists and radiation oncologists — all skilled in next-level treatments and technologies. This multidisciplinary team works together to develop a treatment plan tailored to your specific needs and diagnosis.


Our team is proud to be recognized for high standards in treatment and quality of care.

On a Mission to Advance Neurosurgical Care

Request an Appointment
Thank You.
Thank you for taking the next step with AdventHealth. Our Nurse Navigators have received your request and will reply to your appointment request within 48 hours.
Thank You
Your guide is ready for download below. We hope the guide answers any questions you have and helps you take charge of your health.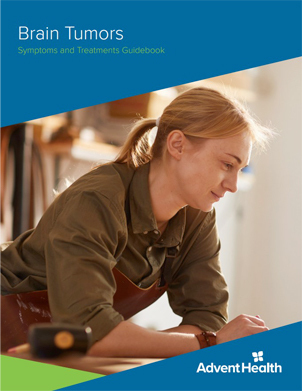 Download Your Guide
Facing a brain tumor takes courage, strength and an expert team standing by to help lead the way. One of the first steps is understanding your diagnosis and possible treatment options. Our team developed this guide to help you feel more informed about several types of brain tumors and some of our advanced treatments.

Download Your Guide
Feel Informed, Find Hope

Download Your Guide
Download Your Guide
Pituitary tumors

Recurrent brain tumors

Skull base tumors
Or call us at 844-396-5819
Faster, Safer Synaptive Neurosurgery

Learn how our exclusive cutting-edge technology gives us the enhanced precision needed to treat your brain tumor.

Personalized Care Tailored to You
You're one-of-a-kind. It only makes sense that you'd choose a unique treatment program tailored to your physical, mental and spiritual needs. We do everything possible to prioritize your well-being and healing. From leading-edge radiation and chemotherapy treatments to state-of-the-art neurosurgical operating rooms and minimally invasive brain surgery, it's our goal to heal your brain tumor efficiently with great precision.
Chemotherapy is a type of malignant brain tumor treatment that uses drugs to destroy cancer cells. The chemicals in chemotherapy attack cancer cells by interfering with cell division and stopping or slowing the growth of cancer cells. Sometimes, chemotherapy is the only cancer treatment used. But more often, chemotherapy is used in combination with surgery, radiation therapy or biological therapy.
AdventHealth Neuroscience Institute Tampa is the only hospital in Tampa Bay to acquire Synaptive Medical Inc.'s BrightMatter™ system with the next-generation Modus VTM digital microscope and robotic arm. This advanced visualization and navigation system for complex brain surgery gives neurosurgeons a wider field of view, cleaner images and better angles.
This advanced medical imaging improves surgical outcomes by allowing images to be taken while you are still in the operating room. Thanks to this technology, we ensure the surgery has been successful, minimizing the potential need for a second operation and reducing exposure to radiation in our state-of-the-art neurological suites.
Faster recovery leading to better outcomes: That's what you can expect of our minimally invasive surgeries, including Endoscopic Endonasal Skull-Base Surgery and MRI-guided Laser Interstitial Thermal Therapy (LITT).

Minimally Invasive Brain Surgery
Radiation therapy uses high-energy X-rays or other types of radiation to kill tumor cells or keep them from growing. Depending on the type of brain tumor and its location, one of two types of radiation therapy may be recommended in your treatment plan. External radiation therapy uses a source that is outside the body to deliver radiation to the tumor's location. Internal radiation therapy uses a radioactive substance that is sealed inside a needle, wire, catheter or "seeds" and placed directly into or near the brain tumor.

The Leapfrog Group has exclusively recognized AdventHealth with the Emerald Award for remarkable achievements and leadership in patient safety, quality and transparency by a health care system, including maintaining a culture of excellence throughout all levels of the organization. Delivering consistent, high-quality, whole-person care is our priority, and we're honored to be the first health care system to earn this award.

Nationally Recognized for Patient Safety, Quality and Transparency